Russell Morgan (毛山峰)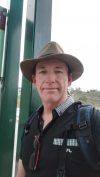 Russell Morgan (毛山峰)is an American teacher, author, businessman and public speaker. His insight on how to learn spoken English quickly has helped thousands of people throughout China. Russell is based in Guangzhou, China, has taught at several Universities within the P.R.C. and is currently a teacher of spoken English at South China Medical University (南方医科大学) where he teaches his students through interesting and interactive techniques.
While teaching in China, Russell became aware that many Spoken English Instructors in China are uninformed or unqualified to teach spoken English. The methods that were being used bore few results, confused the students and wasted a lot of time. It was with this in mind that his pursuit of "teaching how to teach" began. Over the years he developed a method with a solid track record of attainable goals and milestones. His method is based on natural learning tendencies and "Brian based" or Cognitive learning.
The development of the mobile App's are a result of the successful application of his methods and his looking for a way to share with more students. There are a total of five applications that are being developed that include practice in listening comprehension, speaking pronunciation, grammar, vocabulary and spelling.